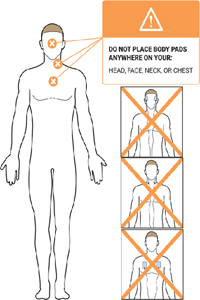 Please download the following suggested use diagrams for body pad placement.
Advanced-Foot-Energizer-Body-Pad-Placement-Guide-c-2017
Please note that you may stimulate combinations of body areas at the same time as you are stimulating your feet.
The programed modes that you choose for your massage will be the same for the feet and the body pads.
The stimulation intensity levels for the body pads are controlled separately from the levels for your feet so that you may maintain a comfortable massage. Sometimes you will notice a synergistic response and the stimulation will feel stronger when using foot and body pads together.
Cautions

Do  not use the Advanced Foot Energizer foot massager and electrical muscle stimulator if you are have a pacemaker; do not use on vital parts, such as carotid sinus nerves, across the chest, or across the brain; use caution in the use during pregnancy, menstruation, and other particular conditions that may be affected by muscle contractions; potential adverse effects may include skin irritations and burns.